meik1

Admin
Martin Kvamme on the new a-ha cover designs
2009-05-26
Martin talks with a-ha.com about inspiration and working with a-ha.
What made you chose this job? How did you start as a designer?
I started as an art director's assistant when I was 18 years old. At that time I had almost no education so I guess I was lucky to get a job :-) After a couple of years I got more and more into graphic design, mainly because of music and cultural projects. I had a couple of friends that were musicians (like the Norwegian artist Magnet/Even Johansen among others) who had me do their packaging, and that got the ball rolling. Have been working with quite different artists like Fantômas, Tomahawk and Peeping Tom (Faith no More singer, Mike Patton's projects), Satyricon and Darkthrone (Black metal), Turbonegro, Gluecifer, a-ha, Bertine Zetlitz, Kurt Nilsen and Silje Nergaard (Pop/rock) to classic and contemporary music. So I'm familiar with quite different genres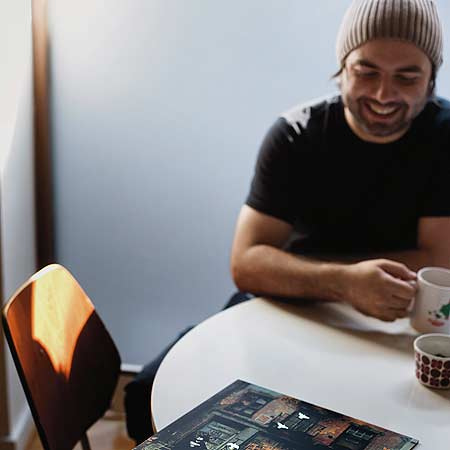 Martin Kvamme (Photo by Kimm Saatvedt for Dagens Næringsliv/D2 © 2008)
What's the artwork you're most proud of and why?
Well, it's a little difficult to pick just one, but the Tomahawk «Mit Gas» packaging came out quite special (at its time). But I'm really happy with both my two a-ha designs as well ;-)
You created the 'Analogue' era a-ha logo, as well as the new logo. What caused the change in the first place? Is the idea to have a new logo with each album release?
Why do people buy new cloths and shoes? 'Coz you want to refresh yourself. If you don't think of a-ha as a contemporary pop band, you could just quit. I think it's OK with a band like a-ha which has such a short/strong name to change the "logo" now and then. It's not like they are Iron Maiden :-) Then we would have had to keep up with a logo (and same expression) for 30+ years.
The 'Analogue' era a-ha logo
The hyphen in the a-ha logo is back! Where did it go, and is it back for good?
It was on the two previous logos as well, only a little more subtle (connected to the first "a"). But, I guess the hyphen is back for good, now! :-)
The 'Foot of the Mountain' album cover
Why no picture of the guys on the cover? Was that the band's choice or yours?
Well, we tried out different things on the front (also with the band on it) but this is what we ended up with. There will be a picture of the band on the back of the CD (and also inside) so they are still there :-)
Paul said in an online interview in 2007 that you include birds in all of your designs. What is the story behind this bird design element?
That is more a joke I tell :-) but it's somehow true. I have used birds quite a lot in my designs. I guess it's because it gives it an "airy feeling" (I don't know if this is the right description), and that it works well with music.
The 'Savoy Songbook Vol. 1' album cover
The 'Savoy' album cover
What do you think of the feedback from fans about the new a-ha covers? Are people for the most part 'getting' the message in the design?
Well, I think it is good that people have meanings about it. Good or bad. I wanted (and it probably is) a different expression than the previous a-ha covers. The band, the management, the record label and I think it suits the music, but of course, there are probably a million other ways to do it. But I think this (together with the rest of the design inside the booklet) will work quite well. There are other things we need to be concerned about when we design an album cover, than if this is something a fan would put up on the wall in his/her living room. Like if it's going be visible in the record store, on iTunes and as a small jpeg in an online article etc. etc. But if they get the message? Some get it, some don't. Some bring up new meanings (that we had not thought about) and some are way off :-) I don't think it is fun if you explain every little detail, but some keywords could be Norwegian nature, epic, rose painting, collage, and the four elements.
Some fans have said that the 'Foot of the Mountain' album cover is "the best cover since 'Scoundrel Days'." What do you think of this comparison?
Then I just have to say thanks! I really like the 'Scoundrel Days' cover (and lots of other covers that they have made) but I think it's important to try out new directions sometimes.
Apart from your own album covers for a-ha, which a-ha covers do you like the best?
Like I said, 'Scoundrel Days' is nice, I also really like the 'Lifelines' and 'Hunting High and Low' covers.
How do you create the artwork for CD covers? Do you take the inspiration from the title(s), the lyrics or do you work on a subject suggested by the artist?
In this case we could use the title quite a lot. I know that this is a somehow poetic quote and that they are not necessarily talking about a mountain, but we wanted something majestic and simple. That's also why we made it quite abstract. It's a picture of the mountain Kyrkja (the church) in Jotunheimen/Norway. Inside we have more images of Norwegian nature (in a collage style). But in general I guess the inspiration comes from the overall idea (production and songwriting/lyrics), rather than the the album title.
The 'Foot of the Mountain' single cover
What is it like working with a-ha? Do they want you to have your own creative process or do they prefer to be involved very closely?
They are really nice guys. Good humor and easy to talk to. This time they put a couple of ideas on the table, and I put some of mine, and we ended up with something from both worlds. At least I am happy with the process and the result, hopefully they are too.
The 'Analogue' album cover
_________________
 Gruß Meik

Befugnisse in diesem Forum
Sie können in diesem Forum
nicht
antworten